One of the biggest challenges when developing new ways of working is having the confidence in your own ability, but it's also about understanding your own strengths and capabilities.
The VET-TEDD project has developed a free to use, accessible resource to assess your skills in identifying, designing, configuring and implementing technological and/or digital content in your learning.
Watch the short video below to find out more about how our Self-Assessment Tool can help you develop your digital competence?
The tool has been developed based on the key competences required by teachers and tutors to maximise the use of digital tools and the results of your assessment can be exported and used to shape your professional development plans, training plans or even just to see where you need to improve.
From personalised results and resources helping you develop and learn to unlimited assessment attempts, here are 9 reasons you should engage with our SAT tool.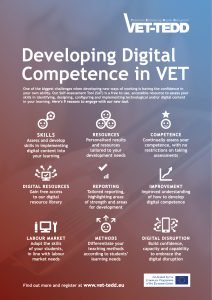 Need to improve your skills?
Visit our Self-Assessment Tool and register your account to improve your knowledge and skills for free!
Are you a Manager in a College or VET Institute?
Our tool can also be used by VET Managers who strive to lead highly skilled and competent teams.
VET-TEDD provides a free to use, accessible resource to unlock the potential of your teams, by developing key digital competencies and skills.